7 Factors for Effective Management
We have seen various styles of management across many verticals, whether it's in energy, financial services or healthcare, the underlying essence for effective management remains the same. Despite the excellence in resources provided to an operating organization, the challenge remains in the hands of an "Active Manager" to deliver business and bring new opportunities to the door.
We believe such important tasks are only passable in a multi-directional highway, where crossed dimensional connectivity become the foundation and driver of great leadership, and an absolute causal factor to a successful organization. Therefore, the approach in effective and active management is structured in seven dimensions: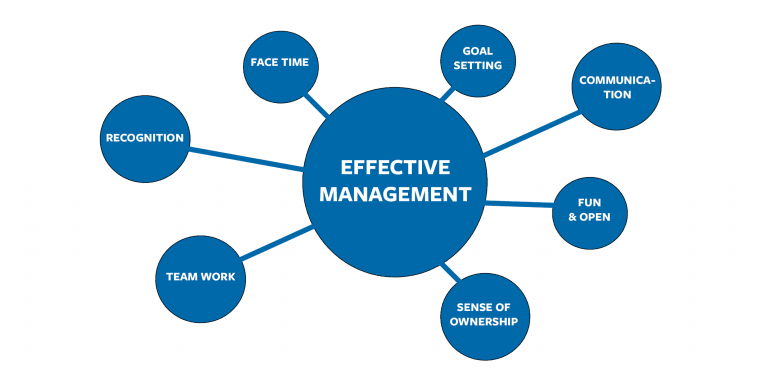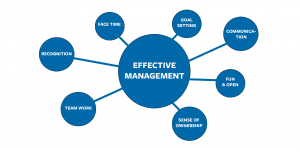 Goal Setting: We highly believe "What can be measured, can be managed and improved". Setting clear and independent goals become a main driver in not only motivating resources but also setting appropriate baseline targets for improvements.
Transparent Communication: Once goals are set, the transparency in the logic behind goals and communication of them become the essential factor in engaging resources.
Sense of Ownership: To engage resources, a sense of ownership becomes the driver in hitting targets. This in turn is the art of delegation and expressing trust in resources. An effective manager continuously seeks to match opportunities to personal traits of resources.
Face Time: Once the sense of trust and ownership is created, leading by example and spending time in performing the actual tasks along with the resources will then not only provide them with face time for effective engagement and open communication, but it also creates a sustainability in the organization. Then, the task of management shifts towards the function of leadership, deviating away from sense of micro-management.
Sense of Teamwork: Alignment of goals among multiple groups towards a common vision and creating communication among all different nodes in the organization will push functional areas towards team efforts, where all contribute to a greater goal and resources feel responsible towards one another.
Recognition: It's indeed important to recognize achievements among the team. This creates a motivational notion towards exceeding targets. Managers shall provide clear directions on developmental goals and recognize resources in just in time manner.
Fun and Open: Open communication and transparency will lead to creativity. When teams work in silos, the opportunity to generate effective solutions will then be minimized. Managers are encouraged to create a fun and open environment where brainstorming and introducing new ideas are welcomed.

This blog was written by Amir Ramezanpour. Amir Ramezanpour is a Senior Consultant in the Toronto office. He draws on his well-rounded industry experience in the energy sector and his recognized ability in developing niche strategies for major clients across multiple verticals.